How does the MONOZUKURI BOOTCAMP program work?
The MONOZUKURI BOOTCAMP program takes teams with hardware prototypes and turns them into functional, sustainable companies. The program is twofold: 6 weeks in Kyoto, Japan, to refine their prototype product, and up to 4 weeks in New York City, NY, to market their product and business idea at the Monozukuri Exhibition, an open space to demo their product and get direct feedback from the real market including mentors and investors.
For this first batch (Summer 2016), we plan to select 2 teams of 2-3 founders who have a concept or an early prototype.
The selected teams agree to locate themselves in Kyoto, Japan for 6 weeks of the program, from early July through late August, 2016. During the program in Japan, they will build and refine their prototype product, mingled with the teams participating in the local accelerator program called Makers Boot Camp. The teams will get professional support from Kyoto Shisaku Net, prototype experts with over a hundred skillful factories and manufacturers.
After the Japan trip, the teams will polish their marketing plans by getting direct feedback from the NYC market. They will also participate in the Demo Day to get direct network with investors and business partners in New York City.
One of the goals the selected teams will have acquired out of the program is a strong operation basis for design for manufacturing, a wide variety of business network in two biggest countries, and a diverse perspective for their business.
What will the Monozukuri Bootcamp program offer participating teams?
The program will help early-stage hardware startups acquire manufacturing maneuver to create high-quality products and, thus, increase their chances of success.
Providing manufacturing and engineering expertise
Helping them create robust organizations, their business model, positioning, branding and product design all the way through launch and manufacturing.
Connecting to potential investors and strategic partners, as well as advisors and press.
Introducing to world-class mentors who have expertise in starting companies, developing innovative consumer products, and creatively marketing those products
Optional: Providing an opportunity to participate in the Makers Boot Camp funding to develop their business plan and build enough of a demo, prototype or beta product.
Why will it take place in Kyoto? Is Kyoto a good place for manufacturing?
As an ancient capital of Japan for more than thousand years, Kyoto is well known for its historical heritage. However, the key industry of Kyoto is information technology and electronics: the city is home to the headquarters of world-class companies such as Nintendo, Omron, Kyocera, Murata Manufacturing and many others.
Traditional Japanese crafts are also major industry of Kyoto, most of which are run by artisans in small plants. Kyoto's kimono (Japanese traditional costume) weavers are particularly renowned, and the city remains the premier center of kimono manufacturing. Such businesses, vibrant in past centuries, have declined in recent years as sales of traditional goods stagnate.
(Source: Wikipedia)
Who is Makers Boot Camp?
Makers Boot Camp is a leading acceleration program 100% Made in Japan, one of the most recommended in Asia, for hardware startups who want to build serious stuff. Counting on Samurai prototype experts mentorship, Makers Boot Camp aim to support startups on key points (Business model from VCs, IP from lawyers, Manufacturing, Sales & Marketing, Crowdfunding, Supply Chain.) so they can reach a high quality standard in the world market.
About Makers Boot Camp

According to Forbes research with Kickstarter pledges, 70% of hardware projects with successful crowdfunding campaigns are not able to reach mass production and fail to deliver products on time. Through partnership with Kyoto Shisaku Net, experts in mass-production prototyping, Makers Boot Camp will support prototype development geared towards mass production.

From basic hardware training to mass-production prototyping, we help our community to build factory ready hardware products from end to end, and ready to start manufacturing from 10 to 1000 pieces.

Makers Boot Camp is partnered with Advanced Scientific Technology & Management Research Institute of Kyoto (ASTEM) and Kyoto Shisaku Net.

Makers Boot Camp is a result of combined efforts from passionate entrepreneurs interested to share Japanese worldwide famous industrial realiable best practices: cost effective, always on time, high quality.

After realising 70% of hardware projects successful crowdfunded campaigns on Kickstarter are not able to reach mass production and fail to deliver products on time, they decided to start a new program in order to use Kansai know-how to help solving this production gap.

Even thought products can be manufactured in alternative countries, when it comes to excellency, Japan is still the main international player makers are inspired by.

The founders are three entrepreneurs.

Makino, investor and venture capitalist, operating incubators and co-working spaces in Kansai, has been able to experience a vast and diverse startup ecosystem, offering many practical solutions to support it.
Kenshin, technical architect for hardware & software products, web services, highly scalable systems & mobile applications, brings his expertise on team building across multiple regions and countries have allowed him to develop a CTO & CIO role for high-tech startups, and added value to his skills as a former Engineer at Sony.
Takeda runs crossEffect, a very well succeed business on medical prototype solutions, and also the main representative of Kyoto Shisaku Net, a group of 100 small & medium companies from Kyoto area that got together to complement each other and face daily industrial challenges as a group.
Why is Makers Boot Camp a partner in Japan?
Makers Boot Camp is our first partner who helps our mission achieve. But we will make efforts to fulfill a variety of demand of hardware startups and creative entrepreneurs to succeed. We are talking with a various design studios, factories and massive maker-spaces that can help hardware startups make sustainable.
The mission of FabFoundry, a NYC-based company behind the Monozukuri Bootcamp program, is to help hardware startups and creative makers access to vital resources to start projects, prototype products, form companies and grow businesses.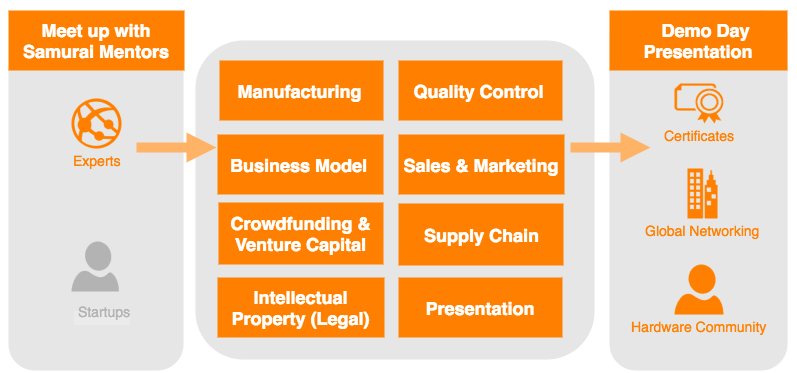 What is available in the Makers Boot Camp facilities?
At their maker-space, available are machines including, but not limited to:
Laser Cutter
3D printer
CNC Machine
Pick and Place Machine
Basic Machine Toolbench
Oscilloscope
Multimeter
Spectrum Analyser
Weekly (probably Every Wednesday) Samurai Mentors will meet startups at Kyoto Research Park (co-working space) and will count on Makers Boot Camp support to help not only translating but also clarifying any doubts about the project — this will lead to a more sophisticated and assertive work. The Bilingual Project Manager Hwan, who will be in charge of their projects, under Kenshin Fujiwara (PMO) supervision, has worked for Samsung for years and has been supporting our startup projects.

Deliverables (free of charge): Master Plan (Detailed, after they share their Bill Of Materials and Product Drawing) and Mentoring.(KSN Members)

Design for Manufacturing (usually around 50k USD, not included in our Program), produced after meetings with mentors, industrial experts.

A very good point to clarify: the manufacturers will only kick-off the project and start working on their production once the industrial fees and timeline are defined and covered a part from the free of charge program. (payment conditions to be agreed with KSN)

The most important thing we add with our Monozukuri Bootcamp — and it's our main advantage: Industrial Project Management with a Bilingual Professional Team, who's dealing with Manufacturers and solving all daily issues startups can't handle anywhere — not only Japan, but also in China, Europe and US. Manufacturers won't work directly with startup as there must be a prepared Project Manager who's used to manage SME projects.

This is a common question and it all depends on the Master Plan and Schedule planned with Milestones — it's not about how often engineers will work for their project, but if the deliverables will be on time with high quality, and never depending on hiring someone to take care of their product individually (as the case in China, where manufacturers are focus on high margins and delay many projects, once new projects arrive at their pipeline) Japanese on time and reliable technology are our guarantee — credentials from KSN can be checked.

The fact that Takeda-san, KSN Main Manager, is one of our Co-Founders make a lot of difference: he can guarantee MBC needs are working perfectly, so we can deliver excellency with no intermediates.
They have also local partners for other purposes including:
Teams have access to experts in prototyping and manufacturing through Kyoto Shisaku.
Who pays travel expenses to Japan and/or New York City?
For the travel to Japan, we will provide a round-trip ticket between New York and Japan as well as accommodations during the stay in Kyoto.
We will NOT provide any support for housing and travel in/to New York, as we expect participating startups are based loaclly.
What will the Monozukuri Bootcamp program take from us?
The first batch of the program is for us to prove our concept and look into details to bring better match between participating founders and partners. Although we are sure we partner with right people and great organizations, we are also a startupmake mistakes.
To compensate, we will NOT take any equity or any other monetary reward from your startups for participation in the bootcamp. However, you agree that we make use of your participation in the program and your testimony for our PR and marketing activities.
Eacho of our mentors, partners and ourselves is an expert in a certain area and can contribute to success for your company. So we are open to discuss investment and partnership during and after the program.
Can we apply even if we already participated, or will participate after this program, in another accelerator program?
Yes!
When is the application deadline?
We are currently selecting the Summer 2016 batch and the deadline to apply is Monday, June 6th, a.k.a. D-Day!
We plan to have a co-working day in the week of May 30th, where applicants can see people behind the program as well as more details of the program, its vision, etc. The venue for the co-working day and its date are to be announced.